We're committed to advancing learning for everyone. Explore our cloud solutions, teaching tools, and affordable devices that help transform classrooms, academic institutions, and edtech companies.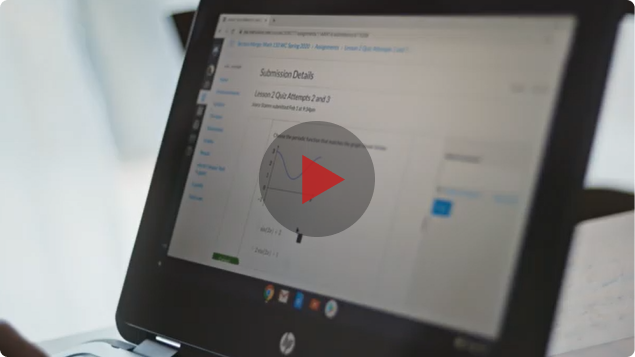 What is Google Cloud for Education?
Student success is about much more than getting good grades. It also includes giving advisors more time to coach their students, helping students monitor and improve their progress on their own, and running processes like class registration more efficiently. Google Cloud can be implemented to education institutions to help meet these challenges. Using Cloud solutions or AI tools and other technology to support more students, more effectively allowing them to take charge of their success.
Check Our Case Study

Build a secure, scalable infrastructure for your institution
---
Security upgrades with Google Workspace for Education Plus
Google Workspace for Education Plus offers you access to enterprise-grade tools, including the security center, security investigation tool, and anomaly detection.
Security analytics and operations
Google's secure-by-design infrastructure and global network make it easy to detect, investigate, and help stop threats that target your school and your users.
Backup and disaster recovery
Stay as prepared as possible for all situations, from natural disasters to short notice data requests, with Google Cloud's backup and disaster recovery solutions.
Modernize your infrastructure
Migrate and modernize your workloads on Google's secure, reliable infrastructure while keeping up with educational complexity and your own goals.
Application modernization
Meet your institution's needs and build new apps across hybrid or multi-cloud—quickly, flexibly, and more securely with our application modernization portfolio.
Data warehouse modernization
Keep pace with the growth of data, and derive new insights from it, when your institution or edtech company modernizes with Google Cloud's data management solutions.

Improve student success while optimizing costs
---
AI-powered learning platform
The AI-powered learning platform is a suite of applications and APIs that provides new ways for educators to share curriculum and provide on-demand learning.
Interactive tutor
Part of our AI-powered learning platform, the interactive tutor can provide assistance to students in learning new skills and information.
24/7 student support
Contact Center AI's virtual agents can provide round-the-clock answers to students' inquiries, while freeing up staff to help with more difficult issues.
Collaboration and productivity tools
Google Workspace and Google Meet enable remote learning, encourage innovation, and streamline administrative tasks—without disrupting your current workflows.
Chromebooks
Educators and students alike can use these simple, secure, and shareable devices to create and collaborate.
Virtual desktop infrastructure
Virtual labs and remote access to compute power empower educators to offer distance learning without disruption.

Accelerate groundbreaking research
---
RAD Lab for research, development and prototyping
Google Cloud's new sandbox environment, RAD Lab, helps teams move quickly from research and development to production.
High performance computing
Google Cloud's flexible and scalable offerings help accelerate time to completion, so you can convert ideas into discoveries and inspirations into products.
Genomics and clinical research
Genomics data is growing dramatically, with petabytes becoming exabytes. Use Google Cloud to store, analyze, and share large, complex datasets seamlessly at scale.
Healthcare and medical imaging
Work more closely with researchers, clinicians, and imaging specialists by de-identifying and integrating your data with our APIs to derive new medical insights.
Research data warehouse
Moving from a traditional data warehouse to Google Cloud means reduced costs, faster data queries and discoveries, and scalable storage to meet research demands.
Research credits and discounts
Apply for Google Cloud research credits and discounts to fuel new innovations, deepen your cloud expertise, and get hands-on training with online labs.
Secure, enterprise-ready tools support your compliance needs
Google is committed to building solutions and products that help protect student and educator privacy and provide best-in-class security for your institution. Our industry-leading safeguards and privacy policies put you in control of your school's data. We understand the unique needs of education; we built Google Workspace for Education, Chromebooks, and Google Cloud to be used in compliance with state and federal regulations like COPPA and FERPA.

COPPA

FERPA

HIPAA

FedRAMP

ISO/IEC 27018

SOC 3
Want to know more about
Google Cloud pricing
that suit to your business needs?
Grow your business with us
Let's find the best solution for your needs
Head Office
Wisma Griya Intan, Jl. Warung Buncit Raya No. 21B
RT. 001, RW.007, Pejaten Barat, Pasar Minggu
Kota Jakarta Selatan, DKI Jakarta, 12510
Correspondence
Jl. Kemang Selatan I D No. 5B, RT.5/RW.2
Bangka, Mampang Prapatan
Jakarta Selatan - 12730